Designed in the UK by women, for women
Free delivery on orders over £300
Description
Design & Manufacture
About Gemstones
Care
Representing hope and protection, this antique medallion is undated. Faint images of Maria Concetta (known as a mystic and miracle worker within Italy from around 1845) and Saint Francesco Assisi, the patron saint of the environment, for his deep love of animals and nature.
Featuring mini pearls and blue agate hung from a chunky mixed shaped rectangular linked chain. The pendant can be easy removed, allowing you to also wear the chain alone or layered with other necklaces.
A note on agate: One of natures most varied and vibrant designs, agates have been used in jewellery since biblical times when they were highly valued as an amulet to quench thirst and protect against illness. Still considered a protective stone today it is believed to offer strength, protect against bad dreams, stress and the draining of energy.
Behind the name: Short for Santino, meaning tiny saint; named after our father.
ALSO AVAILABLE IN SILVER
Find out more about our Treasures coin collection in our Blog post here.
 

Materials

18ct gold plated solid silver, agate and mini pearls

 

Chain length (approx)

18" 


Pendant size (approx)

3.5cm


 

Handmade in

Italy


 

Designed in

UK

 

Hand packaged in

UK
All our jewellery is handmade by family-run workshops and artisans in Italy and Turkey. Each piece is unique.
We only make our jewellery in small batches and encourage our customers to only purchase what sparks joy, as to avoid unnecessary returns. Nothing we make is mass produced.
Our jewellery and products are designed in-house at Soru HQ, based on a quiet leafy street in Solihull, UK.
We use natural gemstones and baroque pearls which may contain internal inclusions, irregular edges, uneven surfaces and variations in the colours. No two gems are the same, adding to the beauty and uniqueness of each individual gem.
If you wish to exchange your item for a different shape or colour, please get in touch at customercare@sorujewellery.com. Any return postage costs would be subject to charge. Item availability for exchange will depend on the stock we have remaining.
Silver / 18ct Gold / Rose Gold Vermeil
Use a soft lint free cloth to keep your jewellery looking shiny and tarnish-free.
Store your Soru purchases in a dark, cool and dry place within the box provided. This will reduce tarnishing, scratching and tangling.
When transporting your jewellery, ensure it is kept within a box so no external pressures is accidentally applied that could bend the metal.
Remove jewellery while in water and avoid spraying perfume or applying creams where your jewellery will have contact.
Avoid extreme temperatures, humidity and sunlight. Any contact with perfumes, cosmetics and chemicals will cause discolouration.
Gemstones
Gemstones should never be worn around hot water, harsh chemicals or cleaners.
You can clean most gemstones with a soft, damp cloth after wearing. Very porous stones such as turquoise and emeralds should be cleaned using an untreated, dry, soft cloth only. Do not use tissue paper or paper towels to clean as they can cause scratching.
Customer Reviews
Carolyn

United Kingdom
I recommend this product
05/28/2021
Beautiful necklace
Brilliant from Debs at customer service to receiving my beautiful necklace. I absolutely love it. Thank you. It feels special. Xx
Irene P.

United Kingdom
I recommend this product
03/08/2021
Pendant
I simply adore this pendant as I adore animals. Lovely quality, I certainly will be buying from this company again.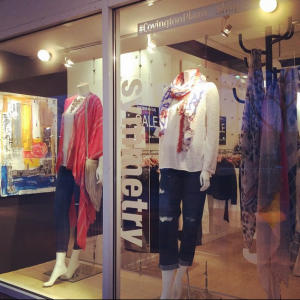 SR
Stephie R.

United States
I recommend this product
10/30/2020
Such special meaning!
One of my favorite Soru pieces. I love how one side features Saint Francesca Assisi and the other Maria Concetta. It means so much to me as both are very important figures in my life. This is exactly what makes each Soru creation so special. Such thought goes into each design! Lightweight, comfortable and goes with everything.
Stacey H.

United Kingdom
I recommend this product
07/31/2020
Beautiful
Absolutely stunning necklace with a nice weight to it too, looks expensive, elevates every outfit! Don't buy it I want it to be exclusively mine!! Xx
Adelina C.

United Kingdom
I recommend this product
05/01/2020
Beautiful necklace
I've recently discovered this company and I am in love! Absolutely beautiful necklace, it is particularly special to me as it's name is the same as my son, Santino, and it also has my middle names, Concetta Maria on it. I feel like it was made for me!
Gift Wrapping (1 Per Item)
PLEASE NOTE
- The quantity of gift wrap must reflect the quantity of products on your order
- If you don't wish for all the products to be gift wrapped, please specify which products to be gift wrapped in your order notes
- If the quantities of gift wrap to products does not match, or you haven't specified, your order will be put on hold and you will be contacted by our team

When it comes to gift wrap, we believe it should not only look extremely beautiful but be sustainable too.

That is why we partnered with Cadeaux Paperworks to gift wrap your Soru box in a high quality, luxuriously thick marble design recyclable paper, tied with grosgrain recycled ribbon, all made in the UK.
Add this finishing touch to your order and we will automatically include a gift receipt with your own personal message so you can ship directly to the lucky recipient. 
Each added gift wrap to your cart allows for one wrapped Soru box.

You can find out more about Cadeaux Paperworks beautiful designs here
FAQ
What materials are used in Soru jewellery?
Quality is very important to us. We only use semi-fine and fine materials in our jewellery. Our gemstones are natural and semi-precious.
All our jewellery is made from either solid silver (often plated in 18ct or 24ct gold) or solid gold. We use an array of gemstones, including genuine rubies, emeralds, sapphires, opals, diamonds, baroque pearls and more. We also utilise Swarovski crystals for the ultimate sparkle.
Where is Soru jewellery made?
Our jewellery is designed in-house at Soru HQ, based on a quiet leafy street in Solihull, UK.
It is then handmade by our artisan jewellery makers in Italy and Turkey.
Finally, our jewellery is lovingly hand-packed at our HQ.
Is Soru a sustainable brand?
We recognise the importance of sustainability in today's world. That's why nothing at Soru is mass produced. Everything is made by hand and in small batches. Our manufacturers are small family run businesses based in Italy and Turkey with fair pay and good working conditions.
Each piece takes time to create, which is why sometimes there are longer wait times for items to come back in stock. As well as reducing stock wastage, we also believe this makes each piece you buy feel truly special. We're passionate about encouraging conscious consumption - we only want customers to buy pieces that truly bring joy, that you can wear again and again.
We have also partnered with Cadeaux Paperworks to offer sustainable gift wrap and eco tape that is ethically made and fully recyclable. 
When can I expect my order?
We aim to dispatch all orders within 1-3 days of being placed with express shipping.
Shipping times may vary depending on the country you are ordering from. Soru cannot be held responsible for any delays due to customs checks.
Please note Soru Jewellery HQ is closed on all official UK national holidays and at weekends.
During sale times, orders may take a little longer to dispatch, sometimes up to 5 days. In this case, a message will be clearly visible on the website to advise of the delay.
How do I care for my jewellery?
To ensure your jewellery stays looking it's best we recommend that you avoid applying any lotions or perfumes and to remove your pieces when swimming or showering.
We provide a Soru branded box and pouch with every order so you can store your items in here when you're not wearing them to keep them safe from tarnishing or discolouration.
Full care instructions can be found here.
Why does my item look different from the web image?
In some of our pieces, we use natural gemstones & baroque pearls. These may contain internal inclusions, adding to the beauty and uniqueness of each individual item.
Slight natural variances may occur between colours, patterns, shapes and sizes of our gemstones and pearls. For items this includes, there will be a message clearly stating this on the styles product page.
If you wish to exchange your item for a different shape or colour, please contact us at customercare@sorujewellery.com. Please bear in mind any return postage costs would be subject to charge. Item availability for exchange will depend on the stock we have remaining.
Shipping
Fast Shipping
We aim to dispatch all orders within 1-3 days with express shipping. This may take a little longer during sale periods.
You will receive a tracking number once your order is on the way.
International Shipping
We ship to the UK, using Royal Mail and to the rest of the world using DHL Express. For your shipping rates, please click here. 
Returns & Refunds
Easy Returns
We offer FREE returns for all UK customers.
We supply shipping labels for all US customers.
Contact us at customercare@sorujewellery.com quoting your order number in the subject line for a returns form and instructions. The item you wish to return must be unused and in the same condition that you received it in. It must also be in the original pouch and box provided. The purchased item you wish to return must be received by us within 14 days of receiving your order.
For UK orders- please ensure you collect proof of postage for your return at the post office, any lost or stolen items with no proof of postage will not be refunded.
Read our returns policy here.
About Soru
Our Mission
We strive to create a high quality, semi-fine fusion of statement and everyday jewellery collections, using precious metals and semi-precious gemstones to make every wearer feel her best. Our aim is for the creativity, happiness and Italian flair of each piece to shine through the design. We believe jewellery is for everyday and all occasions. A special piece of jewellery has the power to transform a look and the mood of the wearer, and our jewellery is created with every woman of every age in mind.
Our Jewellery
All our jewellery is handmade by family-run workshops and artisans in Italy and Turkey, using solid gold, gold plated solid silver and genuine gemstones. Our inspirations come from Siciliana, Etruscan treasures, Greco-Roman artefacts, art history, mythology, celestial bodies, vintage glamour and the divine feminine.
Our Story
We are two sisters (Francesca and Marianna) who grew up in a half-English half-Sicilian household. Every summer, we would travel to be with our extended family in Sicily, where we were shaped by the vibrant culture and the Sicilian women around us: strong, passionate and always draped in lots of bijoux jewellery. Now mothers, we founded Soru together to fulfil their lifelong dream of designing our own jewellery with a focus on flair, quality and sustainability.
High Quality Materials
We use solid silver and solid gold in all our jewellery, as well as semi-fine natural gemstones
Handmade In Italy & Turkey
All our jewellery is made by artisans and family-run workshops in Italy & Turkey
Designed In The UK
We lovingly design each piece of jewellery in our head office in the heart of England
By Women, For Women
Founded by two sisters who are both mothers to daughters, we want to create jewellery that inspires and empowers all women